The Third Magic Reviews
"It is a tortuous journey, filled with plot twists and ancient spells and strange versions of familiar names. But it is a trip that is so thoroughly engaging, so intriguing, that one might be tempted to say this is not a book for kids at all. It is not, in any case, a book for youngsters who have difficulty keeping plot and characters straight... It is simply too sophisticated. The Third Magic is, rather, an imaginative tour de force, a novel that breathes fresh life into old and oft-told tales. And the brilliantly complex tapestry that Wilton Katz has woven will enchant bright young readers -- and a number of adults as well."
-- Montreal Gazette, January 21, 1989.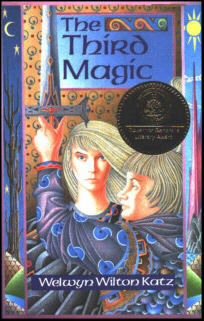 "Any attempt to describe the plot of this work would detract from its beauty and enchantment Welwyn Wilton Katz casts like a spell over her readers. Katz's interpretation of the Arthurian legend's beginning combines present with legendary times and adds a fantasy world, Nwm. Fifteen-year-old Morgan Lefevre walks all three worlds and times. She plays her predestined role unifying First Magic ... with Second. The result is Third Magic -- the sword in the stone, the Holy Grail... and the founding of Camelot. ... This reviewer feels satisfied with Katz's scheme of time, place, and character interrelationships, and is awed by her vision and artistry."
-- National Council of Teachers of English (USA), English Journal, October 1989.
"The Third Magic will appeal to devotees of the Arthurian legend as it explores the tangled lives of Merlin, Morgan Lefay, Mordred and Arthur... The patient reader will come to understand the different threads of the plot as they converge into an exciting story that is, in itself, the history of another famous legend."
-- Canadian Book Review Annual, 1989
"The Third Magic reads like poetry. It is fascinating the way the two worlds are intertwined and explains much about our ancient legends of King Arthur. A most intriguing tale..."
-- Clinton-Essex-Warren-Washington-Franklin-Essex-Hamilton-St. Lawrence-Lewis Schoool Library Systems Book Review, 1989.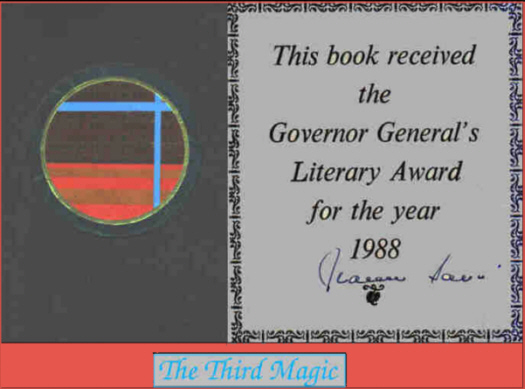 "... one of the most remarkable books to be published for children in Canada. It is certainly the author's most extraordinary performance to date and establishes her in the ranks of the world's best fantasy writers for children."
-- Children's Book News, Winter, 1988
"This is Ms. Katz's finest achievement in writing to date. Highly recommended."
-- Kids Can Read, January, 1989
"The Third Magic... turns into an unusually compelling story."
-- Christian Schools International Library Materials Guide, 1989 (?)
"The Third Magic is a powerful and totally engrossing story which combines Arthurian legend, time travel, and an intriguing interpretation of the struggle for dominance between the male and female entity, a struggle which Katz suggests can only be resolved by co-operation. How skillfully she presents this thesis. This is a book to be read on several levels. It is more than an exciting, beautifully crafted and written fantasy adventure. I have passed my copy on to several young adults -- and adults. Not one could put it down until it was finished."
-- Andrea Deakin, syndicated columnist, The London Free Press, Dec. 31, 1989
"The author of False Face (1988) turns from Indian lore to Arthurian legend--in a story in which trouble between the protagonist's parents provides the impetus for a fantasy adventure; this time, the fantasy virtually consumes its realistic frame. Visiting the ruins at Tintagel in Cornwall, 15-year-old Morgan Lefevre is suddenly, terrifyingly transported to another world: Nwm, where the First Magic (wielded by powerful members of the Circle, a pre-technological force that is clearly female but in no sense nurturing) is in bitter, often gory, conflict with the Second Magic (held by the Line, which is male, military, and--unlike the Circle--uses both fire and metal). The Circle has sent one of its number (Morrigan) to Arthurian Britain as Morgan le Fay; the Line, trying to recall her, got the 20th-century Morgan by mistake. Most of the book involves Morgan's escape from both forces, aided by Arddu, Morrigan's twin; eventually, the two acquire a sword and are transported to early Britain--where Arddu fulfils his destiny as Arthur and the two magics join in a third. Finally, Morgan returns to her original time as her own descendant. A fine adventure, complex but carefully developed. Devotees of Arthurian legend may be taken aback to find it playing such a minor, or backstage, role--it's a little like going to Stoppard's Rosencrantz and Guildenstern. . .and waiting for Hamlet. Still, demanding and intriguing. A fine adventure..."
-- Kirkus, February 15, 1989
"The Third Magic will provide a challenging read for teens with a well-developed taste for the fantasy genre."
-- Books for Young People, vol. 3, No. 1, February, 1989
"The Third Magic, award-winner Welwyn Wilton Katz's most recent fantasy, combines the same elements that ensured the success of her earlier works: a deep interest in mythology, a careful attention to psychological characterization and a simple ability to tell a highly suspenseful and wonderfully unpredictable story.
Even to begin to sketch the extremely complex story that Katz provides would be virtually impossible. Her hero, Arddu, lives outside of time in the magical world of Nwm, while the heroine, Morgan Lefevre, is from modern-day Canada, mistakenly summoned to Nwm because of her psychic affinity to one of her own ancestors, Arddu's twin sister, Rigan. Ultimately the protagonists' adventures bring them to the magical world of Arthur and Merlin, where Katz provides an absolutely fascinating retelling of the legend of Arthur's claim to kingship. The story truly comes alive... when... the protagonists begin their final quest to return the sword of the Third Magic to its rightful place and, by doing so, rewrite the Arthurian legend. Here, especially in the final scenes, one realizes just how gifted a story-teller Katz can be and why she deserves her place as one of Canada's most renowned children's fantasists."
-- Canadian Children's Literature, No. 53, 1989
"Description: Morgan Lefevre, daughter of a Canadian TV show host, accompanies her father and his crew on a trip to England. As she begins her stay in Tintagel, the castle said to be King Arthur's birthplace, she is mistaken for one of her ancesters and is summoned through time to the world of Nwm. There she becomes entangled in the warring powers of the Circle and the Line.
Evaluation: The reader is drawn into an exceptionally intriguing version of the Arthurian legend which blends psychology, science fiction, sorcery and time travel in a masterful way. Attentive reading is recommended to follow this intricate tale which will not soon be forgotten.
-- Books 90, December 1989, in a Seal of Excellence review
©All Rights Reserved. Unless otherwise indicated, all website content (except comments by others) copyright Welwyn Wilton Katz. Educators need not purchase a license for use, if already covered by Access Copyright permission.
Return to the Home Page
Professional Reviews of Welwyn's Books
If you wish to order autographed copies of Welwyn's books for children and young adults directly from the author
please click here:

Go To Order Page