The Prophecy of Tau Ridoo Reviews
"Readers were either very enthusiastic or completely negative about this story, but the former opinion dominated (80% or more of the readers), much to the surprise of the children who were almost unanimous in saying they would never have selected the book had it not been assigned to them. The plot was described as 'mysterious', 'exciting', and 'adventurous.' It places realistic characters in a magical environment which readers enjoyed visiting in their imaginations. An imaginative fantasy praised by children aged 10 -13."
-- Children's Choices Volume 4 #4.
Welwyn Wilton Katz: Biography, Reviews of: The Prophecy of Tau Ridoo, Witchery Hill, Sun God, Moon Witch
-- J.Rank.Org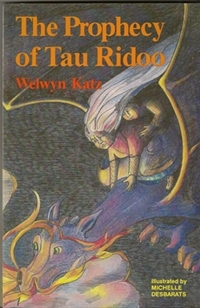 ©All Rights Reserved. Unless otherwise indicated, all website content (except comments by others) copyright Welwyn Wilton Katz. Educators need not purchase a license for use, if already covered by Access Copyright permission.
Return to the Home Page
Professional Reviews of Welwyn's Books
If you wish to order autographed copies of Welwyn's books for children and young adults directly from the author
please click here:

Go To Order Page