Witchery Hill Reviews
"... a chilling yet plausible story of horrors that readers won't be able to put down until its alarming conclusion."
-- School Library Journal, October, 1984
"The action is spellbinding and the characterizations are excellent. Terrifying young adult mystery."
-- OVAL Checklist, January, 1985
"Katz holds the reader in thrall to events in a story she orchestrates like a maestro.... The story is a knockout, with each character deftly delineated and a socko finish."
-- Publishers Weekly, February 11, 1984
"There are witches, a prehistoric tomb, and mysterious and terrifying incidents; all add up to create a most exciting and entertaining journey... For the reader who needs action and intrigue, this book is definitely 'IT'."
-- Voice of Youth Advocates (VOYA), April, 1985
"The writer of this exotic tale is able to stimulate the senses as well as the intellect... This gripping tale is an excellent read."
-- Canadian Book Review Annual, 1984
"A brief summary of the plot does not do justice to the intricacies and drama of this fine novel. Welwyn Wilton Katz is a good story teller who writes in a way that will appeal to teenagers and adults alike. Witchery Hill is a skillful and highly exciting rites-of-passage novel which demonstrates both the weakness of the adult world's reliance on logic and reason and the value of a vibrant and child-like imagination."
-- Canadian Children's Literature, Volume 42, 1986
"The reader will get caught up in this spellbinding story and find it hard to put down."
-- Maine Cooperative Evaluation Program, 1985
"The story shows depth... An excellent alternative to the popular plotless occult books!"
-- Oklahoma Reviewing Network, Jan 3, 1985
"The story is well-written, suspenseful and holds the reader's interest from the beginning to the spine-tingling conclusion. Excellent."
-- Granite District Media Center, December 27, 1984
"It is not often that you find a book written for the youth market that is also appealing to the adult. Welwyn Wilton Katz's book is certainly an exception. In... Witchery Hill she has written an absorbing story dealing with the occult that is guaranteed to make the hair on the back of one's head stand up whether the reader be 12 or 80."
-- The Southwood, Massachusetts News, Feb. 16, 1995.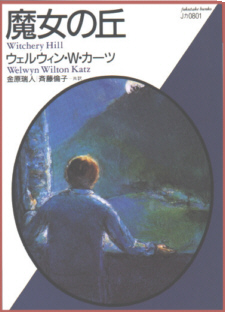 "What a fantastic thriller! Highly recommended."
-- North York Board of Education, Summer, 1986.
"The plot has unique elements: a book that is not a book and a twist using diabetes as a weapon. Some interesting characterization... Has local color and plenty of suspense and action."
-- Young Adult Reviewers of Southern California, January, 1985
"Katz builds her story well, showing how the everyday awry is more frightening than the most hideous monster, and the defeat of logic more unnerving."
-- The London Free Press,?, 1984.
"Witchery Hill is riveting. Welwyn Katz has used the most serene of settings, and her point - that evil is hard to recognize, and that fighting it can be very lonely -- is compellingly taken. Katz is a fine story-teller. Her plot moves believably to an ending that will send delicious shivers through readers long after the book is finished."
-- The Children's Book News, Vol. 7 #4, March, 1985
"Katz skillfully evokes an oppressive aura of lingering evil that makes this novel about contemporary witchcraft both compelling and potently credible."
-- American Library Association Booklist, September 15, 1984
"Neither its innocent-looking cover nor its title, Witchery Hill, prepares young readers for this powerful dose of the occult. This is a genuine junior Gothic chiller, complete with lashings of gore, several deaths, and convincing suggestions that evil has a phsyical presence. It also shakes one's belief that good will always triumph in the battle between the forces of good and evil. A rather complex novel."
--Quill and Quire, Febuary 1985
Welwyn Wilton Katz: Biography, Reviews of: The Prophecy of Tau Ridoo, Witchery Hill, Sun God, Moon Witch
-- J.Rank.Org
©All Rights Reserved. Unless otherwise indicated, all website content (except comments by others) copyright Welwyn Wilton Katz. Educators need not purchase a license for use, if already covered by Access Copyright permission.
Return to the Home Page
Professional Reviews of Welwyn's Books
If you wish to order autographed copies of Welwyn's books for children and young adults directly from the author
please click here:

Go To Order Page